Dr. Paul Zwiebel has provided a comprehensive range of plastic surgery services to patients in the Denver area since 1984. The entire staff at The Zwiebel Center for Plastic Surgery and Skin Care understands the importance of your personal decision to undergo plastic surgery, and we are committed to delivering the exceptional results you deserve.
If you are ready to begin your transformative journey, please call The Zwiebel Center for Plastic Surgery and Skin Care today at 303-470-3400 to schedule your initial consultation. Dr. Zwiebel proudly serves patients from Denver, Littleton and Highlands Ranch, Colorado, as well as Wyoming and surrounding states.
Dr. Paul Zwiebel, MD, DMD, FACS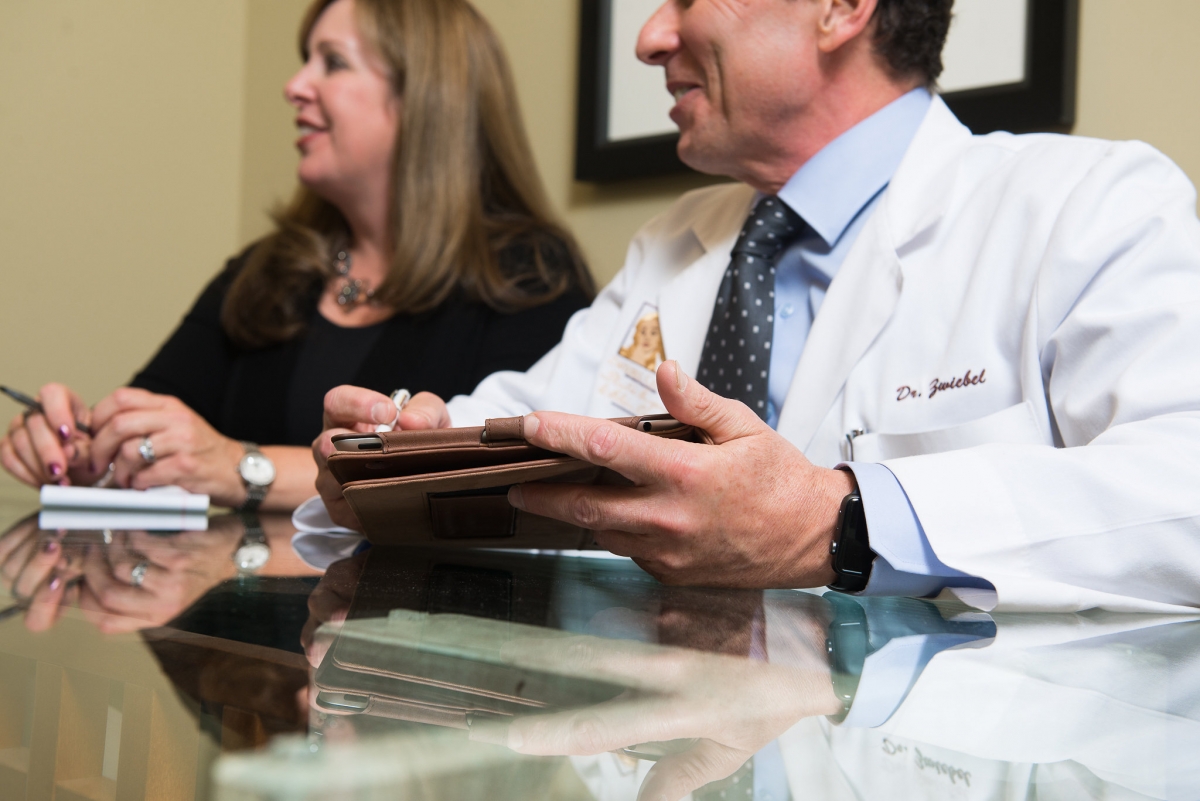 Since his youth, Dr. Zwiebel has been fascinated by the humanistic union of form and function. After graduating from Rutgers College, Dr. Zwiebel attended Harvard Dental School, with aspirations of becoming an oral surgeon. While spending his spare time on weekends assisting trauma surgeons at Massachusetts General Hospital, he became increasingly drawn to the field of maxillofacial reconstruction, and went on to earn a Medical Doctorate from Mount Sinai School of Medicine.
Today, Dr. Zwiebel is a board-certified plastic surgeon with more than 30-years of experience in cosmetic surgery. His time spent as a primary plastic surgeon at Craig Hospital, helping victims of skull and spinal cord injuries, combined with his extensive history with dental surgery and Fellowship training in the United States and France, provides him with a profound and unparalleled understanding of reconstructive surgery and facial composition. He has helped shape the bodies and lives of thousands of people, and provides each patient with a completely customized, personal solution.
Our Commitment to You
Playing a role in your transformative journey is personally important to every staff member at The Zwiebel Center for Plastic Surgery and Skin Care. Dr. Zwiebel will listen closely to you and spend time getting to fully understand your cosmetic surgery goals and concerns. Following a thorough analysis, he will recommend the solution that best fits your needs and, if appropriate, uses a 3D imaging device to give you a visual representation of your potential results.
Dr. Zwiebel feels a deep responsibility to guide you honestly through your process. If he believes a procedure is not right for you or it cannot realistically meet your goals, he will tell you. This level of personalized care and client-education will help your experience be as positive and rewarding as possible.
Following your procedure, you will experience an extraordinary level of aftercare. Dr. Zwiebel will make himself available to you day or night, seven days a week, to answer any questions or address any concerns.
Comprehensive Plastic Surgery Services
Whether you hope to improve a certain aspect of your appearance or reduce the effects of aging, Dr. Zwiebel and the staff at The Zwiebel Center for Plastic Surgery and Skin Care have the skill, experience and personal investment in your success to help you achieve your goals. The comprehensive plastic surgery services we offer include:
Your safety is our top priority. All procedures are performed at our private onsite surgical center, certified by the American Association for Accreditation of Ambulatory Surgery Facilities (AAAASF).
Giving Back to the Community
Dr. Zwiebel's sense of personal duty to both his local and global community has led him on several reconstructive surgical missions on four continents to places like Ethiopia, Peru, China, Haiti and more. Locally, he has been the Director of Swedish Medical Center's Gang Tattoo Removal Program, and an active participant in the Free The Girls Bra Drive, to aid women freed from slavery and human trafficking.
Dr. Zwiebel treats every patient, from Haitian earth quake victims to Highlands Ranch professionals, with the same level of compassion, respect and duty of service.
If you would like to experience the safest, most advanced and most comfortable plastic surgery care in the Denver and Littleton areas, please contact The Zwiebel Center for Plastic Surgery and Skin Care today by calling 303-470-3400 or by completing the form on this page to schedule your consultation. We proudly serve patients from Highlands Ranch, Colorado and throughout the country.