Many of our patients want liposuction because, even in an active city like Denver, exercise and weight loss don't always deliver the ideal figure we want or deserve. Liposuction safely targets stubborn fat deposits and helps you achieve the figure you've been working for, but haven't been able to capture through exercise or nutrition.
The first step learning if liposuction can eliminate your persistent, unwanted fat is to schedule a consultation with board-certified plastic surgeon Dr. Paul Zwiebel by calling 303-470-3400 or by completing the form on this page. We welcome patients from Denver, Littleton and Highlands Ranch as well Colorado's neighboring states.
What Areas Can Liposuction Treat?
Liposuction's extreme versatility plays an important role in its current popularity. It can remove "love handles", muffin tops" and fat from almost any area of your body, including:
Face
Neck
Jowls
Back
Chest
Abdomen
Inner and outer thighs
Calves
Ankles
It is important to note that liposuction is not a weight-loss procedure. It is as body contouring procedure that focuses on removing fat deposits from specific areas of your body to compliment your exercise or weight loss results. Liposuction is equally effective at both enhancing feminine curves and accentuating masculine physiques.
How Does Liposuction Work?
Liposuction re-shapes your body by removing fat from targeted areas. One method Dr. Zwiebel uses to eliminate stubborn fat is VASER® Liposelection. VASER is a minimally invasive procedure that utilizes state-of-the-art ultrasound technology to precisely remove unwanted body fat and gently reshape your body. Traditional liposuction involves the removal of individual, solid pieces of fat. However, the VASER technique utilizes ultrasonic energy that causes fat cells to burst and liquefy. This makes the fat much easier to remove and results in less discomfort, less bruising and faster healing than traditional liposuction.
Dr. Zwiebel also offers S.A.F.E. Liposuction, which is an acronym for fat Separation, fat Aspiration and Fat Equalization. This liposuction technique involves a small, inconspicuous incision into which a thin, hollow tube, also called a cannula, is inserted. Dr. Zwiebel then makes controlled back-and-forth movements to loosen excess fat. Once the fat has been adequately dislodged, it is suctioned out of the body with a surgical vacuum or syringe attached to the cannula.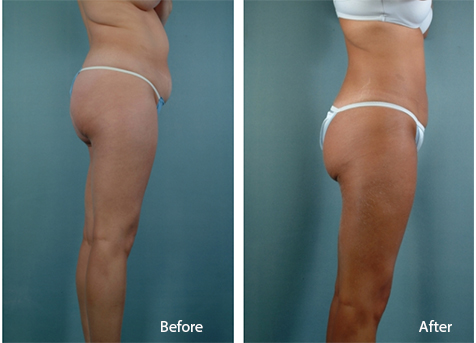 You should note that liposuction is not for everyone. Depending on your bone structure or condition of your skin, Dr. Zwiebel may recommend an appropriate surgical procedure, such as a tummy tuck, to address your goals and remove excess skin.
Why Choose Dr. Zwiebel?
Variations of liposuction procedures have boomed in recent years, driven by high demand and a number of technological innovations. Water-assisted liposuction, laser-assisted liposuction and cryosculpting are among the newest approaches to fat removal. However, most of these new technologies and techniques have not stood the test of time for plastic surgeons to accurately assess their safety or efficacy. Many claims made by doctors are unsubstantiated or not approved by the FDA.
Dr. Zwiebel won't gamble on your safety or results by chasing the latest fad. He has dedicated his life to improving people's lives through skill, compassion and proven methodologies. When you are undergoing any procedure at The Zwiebel Center for Plastic Surgery and Skin Care's onsite surgical suite, certified by the American Association for Accreditation of Ambulatory Surgery Facilities (AAAASF), you can rest assured that you are receiving the safest, most effective and highest-quality care available.
If you are considering experiencing the body-shaping benefits of liposuction enjoyed by our patients from Denver and throughout Colorado, contact The Zwiebel Center for Plastic Surgery and Skin Care online or at 303-470-3400 today to schedule your confidential appointment. Dr. Zwiebel has helped patients from Littleton and Highlands Ranch, Colorado, as well as patients from across the country and across the globe.