As Seen on The Doctors Friday May 16th at 1 pm MST on Channel 9
What Is ThermiRF?
ThermiRF is a minimally-invasive treatment to both remove excess fat and tighten loose skin. It uses state-of-the-art technology to allow unprecedented precision in a skin tightening procedure.
All skin tightening devices rely on heating the dermis to stimulate collagen and tighten skin. Too little heat means less tightening of the skin; too much heat causes damage to the skin. ThermiRF uses a device that accurately and precisely measures temperature change in the dermis so the right amount of heat is delivered for optimal results.
Depending on the area being treated, a ThermiRF treatment session usually lasts between 20 and  60 minutes. Minimal to no downtime is required after ThermiRF.
What Areas Can Be Treated with ThermiRF?
The ThermiRF can treat many different areas. It can provide sub-dermal skin tightening on the body and treat cellulite. ThermiRF can also be used to smooth and tighten the skin. Its dual capabilities for fat removal and skin tightening offer a full body contouring without requiring additional treatment modalities.
Am I a Good Candidate for ThermiRF?
If you have areas of skin wrinkling or laxity, you may be an excellent candidate for ThermiRF. If you have stubborn pockets of excess fat on your body that have not responded to diet and exercise, ThermiRF may be a great treatment option for you. Those who live in the Centennial and Littleton areas can visit our office for a consultation. Residents of Castle Rock and Aurora are encouraged to call us for convenience: 303-470-3400.
How Soon Will I See Results After a ThermiRF Treatment?
It is important to understand that multiple treatments may be necessary for complete results. Most patients experience noticeable results immediately after their ThermiRF treatment. Results typically continue to evolve over the next three to six months, as the collagen restores beneath the skin.
How Does ThermiRF Work?
ThermiRF uses a small radio frequency probe to heat and stimulate collagen in the dermis, resulting in increased collagen production and skin tightening. ThermiRF also utilizes a thermographic monitoring device which measures the treated skin's temperature in tenths-of-a-degree to assure optimal temperature is achieved.
Watch Dr. Zwiebel's video below about how this technology achieves such amazing results.
How Many ThermiRF Treatments Will I Need?
The exact number of treatments you will need may vary based upon your specific goals. During your consultation, we will discuss the amount of ThermiRF treatments you may need.
How Does ThermiRF Differ from Other Non-Invasive Fat Treatments?
While many non-invasive fat removal treatments are currently offered in the Littleton area, ThermiRF is the only one whose temperature can be adjusted to effectively treat your specific area(s) of concern. As soon as the derma or fat tissues have reached the proper temperature, an electronic clock begins calculating the appropriate time for the treatment. The adjustable temperature greatly enhances your comfort and safety.
If you are considering ThermiRF, contact us today through the form on this page or by calling 303-470-3400 to schedule a consultation and learn more about the treatment. We look forward to meeting you!
ThermiRF in the Media: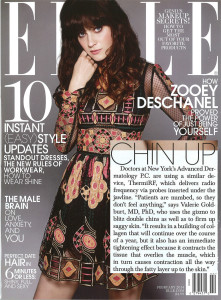 Client Experience