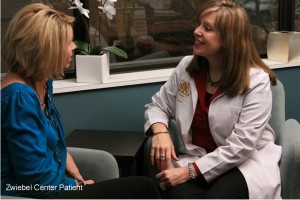 Sagging skin, excess fat, or the appearance of neck cords can be corrected by board certified plastic surgeon Dr. Paul Zwiebel at his plastic surgery center in Highlands Ranch, Colorado with neck lift. A neck lift can restore a clean and well-defined neck and jaw line. The results can improve facial shape and balance; give the appearance of weight loss and a healthier and more youthful look.
Neck Lift Candidacy
Each patient must be individually evaluated by Dr. Zwiebel to determine the best corrective procedure or type of neck lift. If the skin is lax, or if there is extra skin, a skin tightening procedure with incisions behind the ears is usually best.
If skin tone is adequate, excess fat can be removed with liposuction alone.
Neck cords are due to laxity in the neck muscle (platysma). An anterior neck lift (platysmaplasty) can be performed with a small, well-concealed incision under the chin. The neck lift can be performed in conjunction with a facelift or as a procedure on its own, and is commonly performed by Dr. Zwiebel at his plastic surgery center in Highlands Ranch.
What Happens During Neck Surgery?
For your safety and comfort, an anesthetist carefully monitors you during intravenous sedation. During a neck lift, Dr. Zwiebel will remove excess fat from below the chin or neck using a gentle liposuction procedure. Then, excess skin is carefully trimmed away. The remaining skin will be tightened, offering a more youthful look. Patients will return home with a neck support garment, an elastic dressing that allows the treated area to heal properly, and wear it for a week to maintain the neck's new position.
Post-operative bruising will take one to two weeks to resolve. Like all surgical procedures, a neck lift entails some risk. Being board certified to perform a neck lift, Dr. Zwiebel encourages all patients to learn as much about the neck lift and recovery before undergoing a procedure. Dr. Zwiebel and his staff look forward to helping you learn more during a personalized consultation.
Common procedures performed with a neck lift include:
If you desire to learn more about the procedures we offer, you can visit our office for a consultation or call 303-470-3400 to speak with a member of our team.