Have you always wanted to have longer, thicker and darker eyelashes? At his practice in Highlands Ranch, Colorado, board certified plastic surgeon Dr. Paul Zwiebel is now able to offer Latisse® to his patients to help you to grow the eyelashes you have always desired.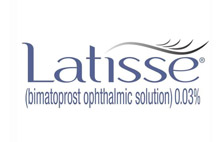 Latisse® is a medical treatment to enhance the length and prominence of eyelashes. The treatment is applied to your upper eyelashes once a day. Within 4 weeks, you will see visible results. Typically it takes up to 16 weeks to achieve maximum results with Latisse®.
Latisse® eye drops take just a few seconds to apply to achieve lasting results. In just a few weeks, you will enjoy longer, fuller and darker eyelashes without the inconvenience of false eyelashes or extensions. With ongoing use of Latisse, Dr. Zwiebel ensures that you will always have beautiful thick eyelashes. Unlike some beauty treatments, the results of using Latisse® always look natural and attractive.
If you decide to stop using Latisse®, usually the results recede within about two months. With regular use, Latisse® makes your eyelashes lush, long and lovely with no fuss and no muss.
While most everyone may want the look of longer, fuller and darker lashes, not everyone may be right for treatment with Latisse®. During your consultation, Dr. Zwiebel will evaluate your medical history to determine if you are a good candidate.
Dr. Zwiebel will work with you to determine if you have any medical condition or allergies that might prevent you from using Latisse®. Please complete the form on this page or call (720) 501-6500 to arrange an appointment.