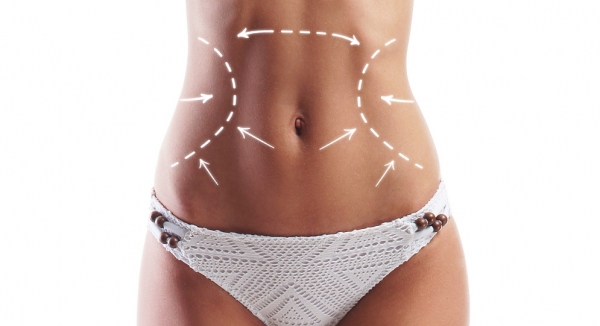 A tummy tuck, clinically known as abdominoplasty, is an excellent body contouring option for patients who want a tighter, firmer, smoother stomach. During a tummy tuck, Dr. Zwiebel tightens loose skin, removes excess fat and sutures stretched abdominal muscles tight, almost like an internal corset. This proven surgical procedure enhances your waistline and restores your abdomen to its beautiful, youthful shape.
If you are considering experiencing the body-shaping benefits of a tummy tuck enjoyed by our patients from Denver and throughout Colorado, contact The Zwiebel Center for Plastic Surgery and Skin Care online or at 303-470-3400 today to schedule your confidential appointment. Dr. Zwiebel has helped patients from Littleton and Highlands Ranch, Colorado, as well as patients from across the country and across the globe.
Benefits of a Tummy Tuck
On its most basic level, a tummy tuck flattens your stomach for a more appealing appearance. However, a tummy tuck is so much more than that. The tummy tuck procedure takes into account multiple aesthetic issues and targets each to achieve the flat, toned midsection you desire.
Over time as we age, many of us can develop small pockets of fat and loose skin. Even for those who live a healthy lifestyle and diet and exercise these cosmetic problems can exist. The problem is that our bodies processes for burning fat and keeping our skin tight begin to slow over time. There can be many reasons why we lose the youthful appearance of our abdomen, including:
Aging
Genetics
Pregnancies
Fluctuations in weight
Thankfully though, at the Zwiebel Center for Plastic Surgery and Skin Care, our board-certified plastic surgeon Dr. Paul Zwiebel has extensive experience with tummy tucks to help address the cosmetic concerns that can result from these circumstances. Through the tummy tuck procedure, he can help:
Create a slimmer and trimmer midsection
Remove excess abdominal skin
Tighten loose abdominal muscles
Reduce or eliminate stretch marks
Improve your self-confidence
A tummy tuck is a safe and effective way to reduce the fat and loose skin that can develop on our stomachs. What's more, is the procedure produces natural-looking results so you can feel comfortable in your skin once you've fully recovered.
Tummy tucks are often performed as part of a mommy makeover for patients who are looking to address multiple cosmetic concerns with their figure, most often after having multiple pregnancies.
Am I a Candidate for a Tummy Tuck?
At our office, we value the safety of all of our patients. That's why we make sure that you're a suitable candidate for any procedure you may wish to have. This way we can make sure that your procedure will not only be effective and produce the results you desire but will be safe as well.
Unfortunately, like any surgical procedure, tummy tucks are not right for everyone. Patients who are in poor health, overweight, or intend to have children may need to postpone their procedure until they have slimmed down or completed their final pregnancy. The only way to truly know if you are a good tummy tuck candidate is to schedule an appointment with Dr. Zwiebel. He will sit down with you and carefully assess your goals and expectations and evaluate your medical history and current health status before recommending the best options for your needs.
Generally speaking, ideal candidates for a tummy tuck are:
In good overall health
Are at or near a healthy, stable weight
Have localized areas of abdominal fat that are resistant to exercise
Have skin or muscle that is loose and stretched by pregnancy
A desire to achieve more contoured curves around the waist
Undergone significant weight loss, resulting in excess skin in the abdominal area
Are done having children
Are not a smoker or who can quit before, during, and after the procedure
Are not on any medications that thin the blood or inhibit healing
Tummy Tuck Procedure
Tummy tucks can be thoroughly customized to meet your unique needs and goals. There are several variations of abdominoplasty, each designed to target certain areas of the body or address specific issues. During your consultation, Dr. Zwiebel will detail these options and help you decide on a treatment plan that will give you natural results and an improved sense of confidence.
Depending on the type of procedure being performed, tummy tuck surgery can last anywhere from 90 minutes to several hours. By following Dr. Zwiebel's detailed pre and post-operative instructions, you can help reduce both the size and darkness of your scars and increase the likelihood of a quick and smooth healing process.
The length and number of incisions involved in your tummy tuck will vary, depending on the specific procedure being performed. Scarring is inevitable, but Dr. Zwiebel carefully plans the location of every incision in order to effectively minimize the visibility of your surgical scars. Dr. Zwiebel uses a drainless approach in his tummy tuck procedure, utilizing internal dissolving stitches between the skin and the muscle. This technique eliminates the need for drains, reduces scarring and improves recovery.
At our office we offer two options for your tummy tuck:
Full tummy tuck: This procedure is for those who have excess skin and small amounts of fat on the entire abdomen. In this procedure, you will have an incision along your bikini line and also around your belly button as it must be moved in order for your abdominal area to look normal.
Mini tummy tuck: These are for those who only have excess skin and small amounts of fat below the navel. Therefore, our doctor will only create an incision in the bikini area and have skin and fat removed from the lower abdominal area.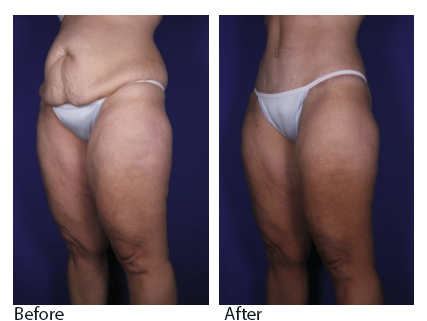 Tummy Tuck Cost
At our office, we believe in providing quality, individualized care that produces results that you love. We understand that price is a concern for many of our patients, and while it may be tempting to seek out lesser-priced procedures, the health and safety of your procedure are too important to trust to an unqualified plastic surgeon.
Our board-certified plastic surgeon Dr. Paul Zwiebel understands your concerns and works to provide the highest quality care while staying competitive. We have many financing and payment options available to help you with the cost of your procedure, from CareCredit and Alphaeon, which includes 0% financing for up 18 months.
The price range for a tummy tuck procedure at our office is between $7,200.00 and $12,000.00. This is a "ballpark" cosmetic surgery price range (estimates only) that we provide on our website. You will be given a specific, individual fee quote at your personal consultation with Dr. Zwiebel. 
Tummy Tuck Recovery
Contact Our Board-Certified Plastic Surgeon Today
If you live in Denver and are considering a tummy tuck, contact The Zwiebel Center for Plastic Surgery and Skin Care online or at 303-470-3400 today to schedule your confidential appointment. Dr. Zwiebel has helped patients from Littleton and Highlands Ranch, Colorado, as well as patients from across the country and across the globe.