Even a healthy lifestyle cannot prevent the inevitable effects of time. If you feel that natural aging makes you appear older than you feel or would like to admit, a facelift can help you achieve a customized, natural-looking rejuvenation of your facial appearance. If you suffer from deep wrinkles, sagging jowls or loose skin around your neck, a facelift can eliminate your problem areas and help you look years younger.
If you are considering a facelift procedure in the Denver or Littleton areas, contact board-certified plastic surgeon Dr. Paul Zwiebel today by completing the form on this page or by calling 303-470-3400 to schedule your personal consultation.
There is no one-size-fits-all facelift. The only way to find a solution that fits your particular situation is to meet personally with Dr. Zwiebel. In your initial consultation, Dr. Zwiebel will spend time with you to thoroughly understand the look you hope to achieve. Depending on your individual goals, our board-certified plastic surgeon will recommend the best approach to meet your needs.
Understanding Facial Aging
As we grow older, our faces change in three substantial ways: our skin loses elasticity, youthful volume disappears and facial tissue begins to sag. While non-surgical facial treatments may be able to adequately address elasticity and volume issues, only surgical intervention can elevate sagging tissues. The results of sagging tissue include:
Sagging skin and fat beneath the chin and in the neck
Jowls
Banding in the neck
Deep facial fold around the mouth
Once the tissue is elevated, these gravity-induced problems can be significantly reduced or completely eliminated.
Facelift Procedure
Motivations for undergoing facelift surgery are as varied as our individual patients. Some people want to change specific aspects of their appearance. Others simply want to look like themselves again. However, regardless of the reason, everyone shares a common goal: to look natural, not "surgical".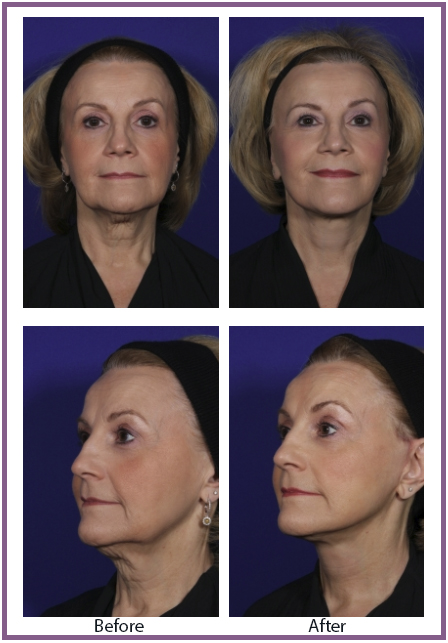 Although you will hear different names for facelift variations, your facelift is a fully customized procedure, designed just for you. That being said, we often refer to three major categories of facelifts. A mid-facelift describes a procedure that focuses primarily on your cheeks. A mini-facelift targets sagging in the mid and lower facial area, but does not include the neck. A full facelift includes the face and neck, and typically delivers better results than a neck lift alone, even when you are mostly concerned about sagging skin around your neck.
Often times, a facelift will include procedures such as rhinoplasty or otoplasty. Dr. Zwiebel's expertise and comprehensive approach to assessing your overall appearance of aging can help you achieve the best look possible.
Dr. Zwiebel has spent decades perfecting his facial plastic surgery approach, integrating the latest techniques and technologies available. He uses a short-scar technique to preserve the hairline and minimize scar lengths. With the continued demand for added volume, fat grafting is almost always incorporated in these procedures, increasing both the quality and durability of the results.
Facelift Recovery and Results
Following your facelift, you will experience some swelling, bruising and discomfort in the face. Depending on your exact procedure and amount of lifting, these post-operative sensations may be more or less intense. Your own recovery time and experience depends on several unique factors, such as the level of work completed and your individual healing rate.
Expect to take one to two weeks off from work. You should feel completely healed within a month, but your results will continue to improve for up to eight weeks.
An extended recovery time is a trade-off for the unequaled results provided by a facelift. You will look younger and more refreshed, like a younger version of yourself.
Facelift results are long lasting, but no surgery can prevent aging. While you will continue to look younger, the clock is always ticking, and you will still continue to naturally age. Most patients enjoy significant results for 10 years or more following the procedure.
Why Choose Dr. Zwiebel for Your Facelift Surgery?
If you are considering any type of surgical rejuvenation, you should work only with a board-certified plastic surgeon who has undergone the extensive training necessary to perform your procedure safely and effectively. In addition, you should choose a surgeon who is an active participant in your transformative journey, not a transactional salesman. Pay attention in your consultation, and ask yourself if the surgeon is working to truly understand who you are and what you hope to achieve.
Dr. Zwiebel is a board-certified plastic surgeon whose ability to listen and offer customized recommendations has earned the trust of thousands of patients in Littleton, Highlands Ranch and throughout the Denver area. During your consultation, you will learn first-hand of his skill and humanistic approach to patient relations. By visiting his Before and After Gallery, you will see his masterful balance of technical expertise and an artful eye.
If you would like to find out if a facelift can offer the positive benefits that many of our patients from Denver and Highlands Ranch have received, please contact The Zwiebel Center for Plastic Surgery and Skin Care today by completing the form on this page or calling 303-470-3400 to schedule a consultation. Dr. Zwiebel welcomes patients from Littleton, Colorado and surrounding states.