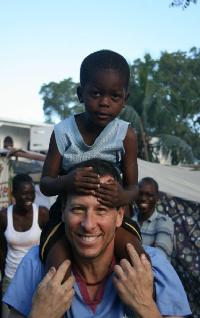 Giving back is important to Denver plastic surgeon Paul Zwiebel, MD, DMD. Dr. Zwiebel has a long history of participating in medical missions programs that provide emergency medical care to those in need and critical surgical care to under-served communities around the world. Read about some of his recent charitable work:
Free The Girls
Bra Drive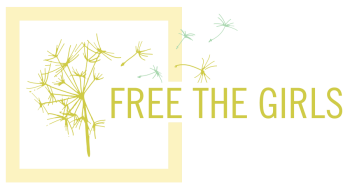 Women Supporting Women.
Not Just Surviving But Thriving!
Dr. Zwiebel's patients consistently change bra sizes, and we found an opportunity to donate gently used bras to support other women. We have partnered with a local dry cleaner, Dry Cleaning Station of Littleton, CO, who generously offered to dry clean all the bras before they are shipped out to support this great cause.
Free The Girls is a 501(c)(3) non-profit organization that has found a way to provide job opportunities for sex trafficking survivors by selling second-hand clothing.
Why bras? Free The Girls have women in their program making 3-5x the minimum wage by selling bras!
Kevin Bales of Free The Girls estimates that 27 million people are currently held in modern-day slavery worldwide. It is estimated that 80% of those are women and children. Join us! Dr. Zwiebel offers a donation site at his practice (in reception area) to drop off gently used bras. Free The Girls accepts any color and any size including athletic bras, camisoles and nursing bras.
For more information on FREE THE GIRLS or take a look at their story on CNN and Interviews
Medical Mission to Haiti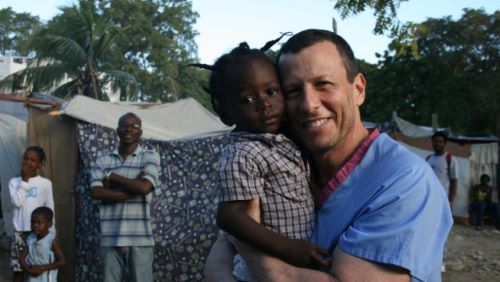 I've just returned, exhausted but gratified, from a 12-day medical mission trip to Haiti. Whatever you've been seeing on the nightly news about the Haitian disaster, I want to tell you it's a fraction of the real suffering going on in that tiny country. Being there in the stench and the chaos, seeing people who'd lost everything, amputating the limbs of small children and uncomplaining adults, I saw a level of anguish none of my earlier medical missions had prepared me for.
Team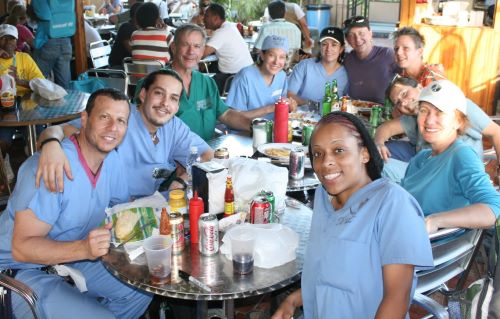 I was assigned to a team of 10 doctors and nurses. My son, Elie, came with me to document the trip and help anyone who could use an extra pair of hands.
After an overnight wait at JFK airport in New York, a 4-hour flight and an 11-hour drive from the Dominican Republic (the rumors about how hard it is to get into and out of Haiti are true) we arrived in the disaster area with 39 duffel bags filled with medical supplies. We were assigned to a town called Carrefour, a few miles outside of Port au Prince.
Refugee Shelters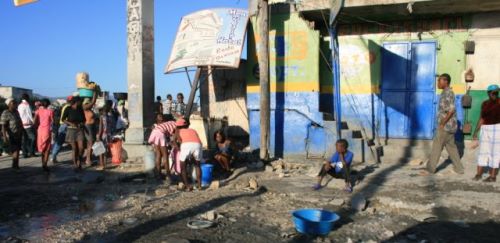 20,000 people were packed into makeshift shelters. Many were suffering from dehydration. Food was scarce. My colleagues and I, doctors and nurses from all over the United States, treated a variety of wounds and conditions. We refreshed the dressings on amputations and broken bones, treated abscesses, lacerations and contusions, and dealt with acute dehydration (especially in babies).
As searing as these physical injuries were, the emotional ones were worse. People had lost loved ones – one, two, three family members, some their entire families.
Orphans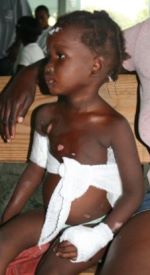 One 10-year-old boy who'd lost everyone was unable to speak. He couldn't walk, either. An examination revealed he had a hip fracture no one had noticed. A neighbor had cared for him for 10 days until medical help arrived. He was introduced to us. When they told him we would take care of his needs he just stared at us with an expression of disbelief.
The Haitian People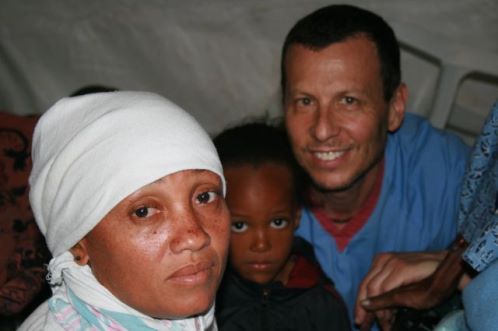 The Haitian people were amazingly patient and compliant, stoically putting up with the most dismal surroundings. I'm going to quote my son, Elie's blog because he was so articulate in conveying the scenes we encountered daily. In an open-air and poorly curtained auditorium…a man removes his pants for a doctor to inspect a severe intestinal hernia that has engorged his testicles; a woman hikes up her skirt to reveal puss in an abrasion the width of a pumpkin on the back of her thigh. These patients clearly understand that this medical setting is not suited for modesty." [In Port au Prince] Garbage is piled throughout the city–sometimes in heaps as large as those of the rubble from collapsed cement buildings. The street gutters overflow with black fluid and floating refuse. Enormous canals separate city blocks once every few miles. These canals are essentially open-air sewers…. On one side of the road, a man urinates in the canal that funnels under the street. On the other side of the street, a woman washes clothes in the canal.
The Nurses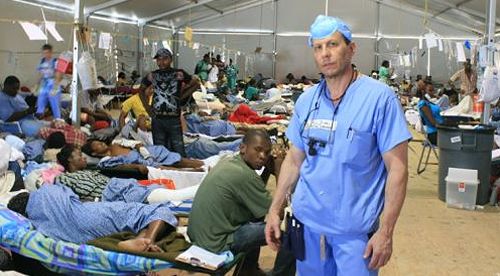 Along with the doctors, the nurses put up with extreme sleep deprivation to serve as many people as possible every day. We all learned how important self-care is – eating and drinking well so we wouldn't hit exhaustion and lose our effectiveness.
Port au Prince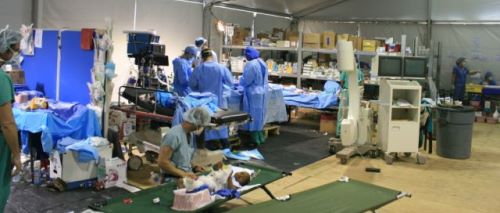 After three days in Carrefour we were taken to Port au Prince, the epicenter of the disaster. Supplies were finally flowing into the city and it was possible to set up two procedure tables for surgery under sedation. We sedated patients with the most severe wounds and went about doing our best to stabilize and restore those with amputations, broken bones, fractures and other injuries.
For me it was tremendously gratifying. I was able to use sophisticated skills I'd learned in emergency care and reconstructive surgery. Because of my thorough training I could give these people something they could never obtain otherwise. That was the most rewarding part of the trip.
Sleepless Nights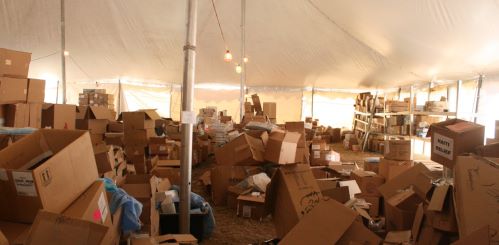 None of us got more than 3 hours of sleep each night. Crowing roosters, planes landing at all hours…there was always something to keep us awake. At night I'd roam the supply tent near the airport, poking around in boxes to make sure our stations stayed supplied.
Occasionally I'd strike gold. I got giddy when I found a whole palette of WoundVac, a product that speeds healing. I brought it back to our "surgical suite" feeling like a kid with a new toy.
I Owe Thanks to Everyone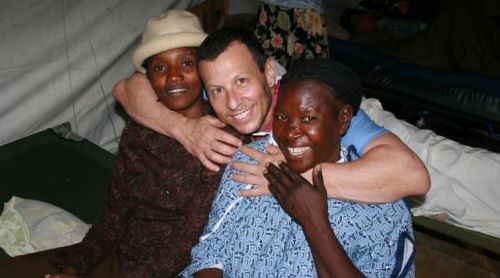 And speaking of supplies…..those 39 bags full of supplies we brought with us were donated by my vendors here at the Zwiebel Cosmetic Surgery and Skin Care Center. I want to mention, in particular, CrazyScrubs, ConMed, Ethicon, Clear Spring Pharmacy, PSS and InSorb Staplers. These companies opened their warehouses to us, just said "Come on in and take what you want." ConMed's sales rep Jana pulled up to my house moments before I left for the Denver airport. Her SUV was bursting with 5 cases of medical supplies.
My Staff Stepped Up to the Plate
I want to publicly thank my vendors, along with my wonderful staff for their support. My staff cleared my calendar on incredibly short notice, and put out the word for the supplies. It was a group effort, with everybody pulling for the Haitian people.
Thank You to My Patients also owe a debt of gratitude to my patients who had to be rescheduled. My trip was very last-minute and it inconvenienced many of you. I know you plan your procedures well in advance and look forward to healing in time for important events in your lives. Your flexibility is greatly appreciated.
12 Days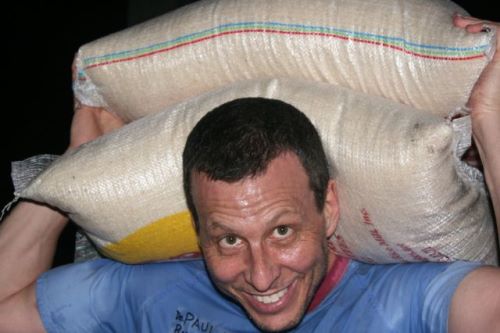 After 12 days our mission was over. As we boarded our plane I looked back at the tent cities and the rubble, as far as the eye could see. I was struck with how how enviable my life – our lives – in the United States are. Our homes with central heating, water-on-demand, all the food we want…don't ever take it for granted. We are very blessed.
When I describe my trip to people here they often say, "I wish I had a skill like yours. Something I could offer to people in need." The fact is, everyone can do something to help. Every nurse down there needs two assistants if she's to work at top speed. There are agencies who'll train anyone willing to lend a hand. If you have the time and the plane fare, you can be a Samaritan. I recommend these two agencies: 
Back in Harness
Everything's back to normal here at The Zwiebel Center, so please come in and see us. I promise not to reschedule you this time! But later in the year I may carve out a block time without any bookings so I can go back to Haiti. I keep seeing the faces of the people there, so valiant and stoic. It's hard for me to resist.
Ethiopia
Acacia Dental Group
Dr. Mark Novelen and Dr. Damien Mulvany have practiced in the Englewood area since 1980. Together, they established Acacia Dental Group 1986 and have been providing the community with dental excellence ever since. Both Drs. Novelen and Mulvany stay abreast of all the modern treatment options for their patients through extensive continuing education. Both doctors are active in the Academy of General Dentistry: Kids in Need of Dentistry, a dental program for underprivileged children; and Urban Peak, a donoted dental care program.