Breast augmentation is one of the most popular plastic surgery procedures requested by our patients. This procedure can help with many issues related to the size and shape of your breasts to give you the figure you desire. At the Zwiebel Center for Plastic Surgery and Skin Care, our board-certified plastic surgeon Dr. Paul Zwiebel has over 30 years of experience creating individualized care for the highest quality results.
If you'd like to learn more about the breast augmentation procedure and if it's right for you, contact us today at 303-470-3400 to schedule your consultation. We proudly serve Denver, Highlands Ranch, Littleton, and nearby areas of Colorado.
Why Consider Breast Augmentation?
When you're unhappy with the size and shape of your breasts, or if they have lost fullness due to childbearing or age, breast augmentation can give you the natural, pleasing look you've been hoping for. Breast augmentation surgery can improve more than just your appearance; it can improve your self-image and allow you to wear new outfits and bathing suits with confidence.

Breast augmentation can help those with issues relating to:
Loss of breast volume and size after having children
Loss of breast volume and size after significant weight loss
Loss of breast volume and size due to the aging process
Asymmetrical or abnormally-shaped breasts
Genetically small or misshaped breasts
Choosing the Right Implants
One of the most crucial components of breast augmentation success is choosing the right size of your breast implants. As an experienced breast implant surgeon, Dr. Zwiebel understands the importance of spending time in the beginning of your augmentation process to ensure your aesthetic objectives are met and your expectations are accurate. He will thoroughly discuss your goals and work to understand what you hope to accomplish with your augmentation.
Next, Dr. Zwiebel will show you a visual representation of your results through digital imaging and then give you a chance to actually wear your implants beneath your clothes, so you can get a realistic idea of what to expect and how you will look. This special attention at the onset will help ensure that you get the results you truly desire.
Breast Implant Options
Breast implants will make your breasts larger, but quality results depend on more than just size. You want to look natural. Achieving a beautiful shape involves several factors, including the type of implant you choose and the placement of the areola. An implant alone cannot lift sagging that many women encounter through aging. In some cases, a breast lift is recommended, either instead of or in addition to implants to achieve a beautiful, smooth contour.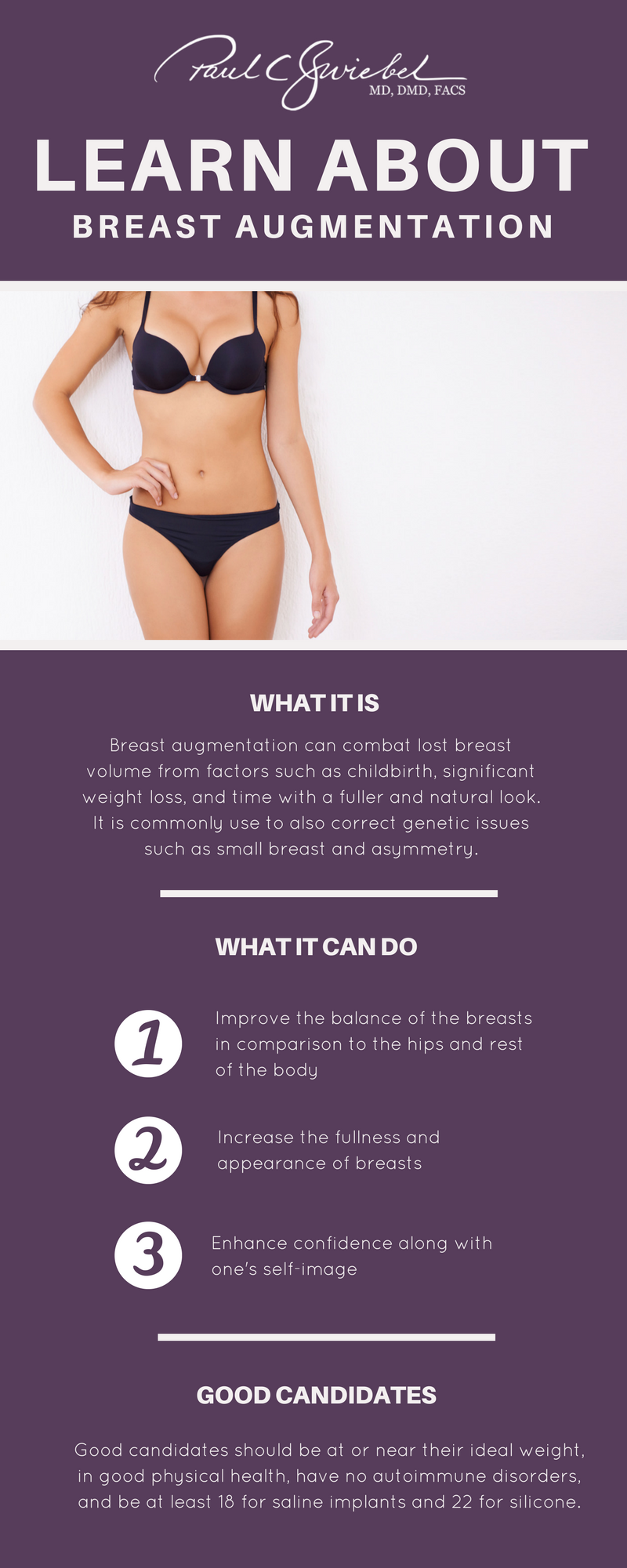 When considering breast augmentation surgery, many women focus on the size of their implants and the final results. However, one of the essential decisions you will need to make early on is whether you want saline, silicone or "gummy bear," or our newesr addition structured breast implants.
Saline implants: A saline implant is typically a round silicone shell filled with sterile saline water. They usually require a smaller incision than other implant types because the silicone shells can be filled with saline after they are placed. If a saline implant ruptures, it is almost immediately noticeable, as the saltwater is harmlessly absorbed into the body. Because of the lower health risks associated with ruptures, the FDA has approved saline implants for patients aged 18 and older. Saline implants have sometimes been criticized for not feeling as natural as their silicone counterparts.
Silicone implants: Silicone implants encompass a variety of implant types, including the new gummy bear implant. Generally speaking, silicone implants are silicone shells filled with silicone gel. While many patients prefer silicone implants due to their more natural look and feel, detection and treatment of a leak or rupture may be more difficult than with saline implants. The FDA has approved the use of silicone implants for patients aged 22 and older. There are several types of silicone breast implants, but the most modern variety is the gummy bear.
Gummy Bear implants: Gummy bear implants differ from other silicone implant types due to their "teardrop" shapes and considerable stability. Internal cross-linking within the silicone shells help the gummy bear implants retain their shape, even when cut in half, much like their namesake, gummy bear candy. The FDA has approved gummy bear implants for patients over the age of 22, or women of any age who are undergoing post-cancer breast reconstruction.
Structured breast implants: These implants are the newest option we offer at the Zwiebel Center for Plastic Surgery. Structured breast implants are filled with saline but have an internal structure that allows it to behave as if it was filled with silicone gel. Its design includes a series of nested shells to provide support to the edges of the implant to control fluid movement and prevent bouncing. These implants offer the benefits of both saline and silicone implants. Because saline is a safe and natural fluid, women feel safer in case of a rupture while having the natural feel of silicone. These implants also have a lower rate of capsule contracture and a lower rate of rupture than both saline and silicone implants.
Breast Implant Shapes, Profiles and Textures
Breast Implant Shapes: While saline-filled implants are available only in round shapes, silicone gel-filled implants are available in both round and teardrop ("anatomical") shapes. Round implants are the most common type used in breast augmentation. Due to the symmetrical shape of a round implant, a breast's appearance is not compromised if the implant rotates. Teardrop implants more closely resemble the natural shape of the breast, and help the breast achieve a gently sloping contour.
Breast Implant Profiles: Round implants come in low, medium, high, and extra-high profile variations. A high profile implant has a narrow base with an enhanced forward projection, while a low profile implant has a wider base with less forward projection. Teardrop gummy bear implants are available in any combination of full or moderate projection and full or moderate height. Dr. Zwiebel can help determine which profile option best suits your natural breast tissue.
Breast Implant Textures: All implants consist of a silicone shell. However, you can choose if you want a shell with a smooth or a textured surface. A textured shell will keep the implant anchored to the underside of the breast, almost like Velcro. When opting for teardrop shaped implants, textured implants are almost a necessity, because if they rotate, the breast shape will change.
Breast Augmentation Candidacy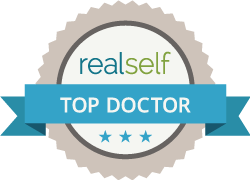 Successful breast augmentation relies on the elegant union of the implant you choose and your existing breast tissue. There is no one-size-fits-all solution to success. Prior to implant placement, a careful examination is performed and measurements are taken. This process, in addition to digital imaging and physical modeling with implants beneath your clothing, will help guide your implant choice and ensure the size and shape compliments your unique frame.
There are also other factors that determine your candidacy for breast augmentation surgery. During your consultation, Dr. Zwiebel will go over your health and medical history to make sure that this procedure is right for you. A few of the factors that make ideal candidates for this procedure include:
Good physical health
Near your ideal weight
Have fully-developed breasts
Have enough breast tissue
Have no autoimmune disorders
Have not been diagnosed with cancer or a pre-cancer condition
At least 18 years old for saline implants and 22 years old for silicone implants
Breast Augmentation Risks
When considering any plastic surgery procedure, it's important to understand that any surgery carries with it certain risks to your health. While Dr. Zwiebel and our entire staff do everything we can to ensure your safety during every step of the process, we believe it's your right to know any potential risks that may occur.
Our on-site surgical suite is certified by the American Association for Accreditation of Ambulatory Surgery Facilities (AAAASF) and is designed to provide you with the highest standards of safety and comfort. However, breast augmentation does harbor certain risks, such as:
Capsule contracture: The most common side effect of this procedure, capsule contracture occurs when the pocket surrounding the implant shrinks and squeezes the implant, causing pain, discomfort, and firmness and distortion of the implant's shape. This is not a health risk.
Loss of nipple or skin sensation: There is a risk of damage to the nerves that provide sensation to the nipples and skin in the area being treated. This can range from intense sensitivity or loss of feeling altogether and may be temporary or permanent.
Interference with breastfeeding: While most women who have breast augmentation are able to nurse their babies without issue, there is a risk that the surgery can interfere with your ability to breastfeed.
In recent findings from the Food & Drug Association (FDA), textured breast implants have been linked to anaplastic large cell lymphoma (ALCL), which is a cancer of the immune system. It should be noted that ALCL from breast implants is extremely rare, but the recent findings raise questions about the implants. For more information on ALCL and textured breast implants, please visit the American Society of Plastic Surgeons, Smart Beauty Guide, and the FDA.
Post-Operative Care
After any surgery, following proper post-operative instructions is important to ensure the success of your procedure and maximize the aesthetic results. This is especially true for breast augmentations, as you want your new figure to keep its shape for years to come. Aftercare is important. Some breast implant ruptures are immediately obvious, while some can go undetected for months or years.
Aftercare for breast augmentation is critical for the avoidance of complications such as capsule contracture or any of the above-listed risks. Below, we briefly outline a few of the most important things that you need to consider for your post-procedure recovery and care, including:
The first 24 hours: This period after your surgery is critical for your safety. It's important to have a responsible adult available to help you for the first 24-48 hours as you will be on pain medication and anesthetics can linger, impairing your cognitive abilities and reflexes. So not operate any vehicles during this time.
Home care and help: We recommend having assistance with any childcare, housework, or strenuous work for up to two weeks after the procedure. Take the time to rest and relax as any exertion can cause damage to your breast augmentation.
Showering and sleep: You may shower beginning the day after the procedure but only use lukewarm water. If you prefer a bath do not soak the incision areas in the water. You may sleep however is most comfortable but many find sleeping on their back as the best position.
Exposure to sunlight: Because scars can take up to one year to fully heal, it's important to protect the scars from UV light during this time. To avoid damage to the scar, use a sunscreen with at least 25 SPF when in the sun.
Exercise and activities: We recommend that patients avoid strenuous activities for up to six weeks after their procedure to promote the healing process. Light walking is encouraged but avoid any jumping, jarring activities, or upper-body weightlifting during this six week period.
Medication: It's important to follow Dr. Zwiebel's instructions when it comes to your medications. He may prescribe pain medications as well as antibiotics to minimize bacteria forming around the implant.
Breast Augmentation Cost
At the Zwiebel Center for Plastic Surgery and Skin Care, we believe in providing quality, individualized care that produces results that you love. We understand that price is a concern for many of our patients, and while it may be tempting to seek out lesser-priced procedures, the health and safety of your procedure are too important to trust to an unqualified plastic surgeon.
Our board-certified plastic surgeon Dr. Paul Zwiebel understands your concerns and works to provide the highest quality care while staying competitive. We have many financing and payment options available to help you with the cost of your procedure, from CareCredit and Alphaeon, which includes 0% financing for up 18 months.
The price range for a breast augmentation procedure at our office is between $7,150 and $9,100. This is a "ballpark" cosmetic surgery price range (estimates only) that we provide on our website. You will be given a specific, individual fee quote at your personal consultation with Dr. Zwiebel.
Contact a Denver Breast Augmentation Specialist Today
With more than three decades of experience, board-certified plastic surgeon Dr. Paul Zwiebel has the expertise and artistic approach you need. His compassionate bedside manner and commitment to your sense of comfort will put you at ease throughout your experience. He can help explain your breast enhancement options and help you find a solution that best meets your needs.
If you are considering breast augmentation surgery in Denver or Littleton, please contact the Zwiebel Center for Plastic Surgery and Skin Care by calling 303-470-3400 or completing the form on this page to schedule your consultation. Dr. Zwiebel serves patients from Highlands Ranch, Colorado and throughout the country, as well as international visitors.