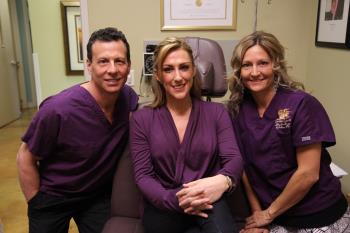 Playing a role in your transformative journey is personally important to every staff member at the Zwiebel Center for Plastic Surgery and Skin Care. Our board-certified plastic surgeon Dr. Zwiebel listens closely to you and spends time getting to fully understand your cosmetic surgery goals and concerns.
Dr. Zwiebel feels a deep responsibility to guide you honestly through your process. If he believes a procedure is not right for you or it cannot realistically meet your goals, he will tell you. This level of personalized care and client-education will help your experience be as positive and rewarding as possible.
To learn more about the procedures we offer and to find out if you are a candidate, call our office today at 303-470-3400 and schedule your private consultation with Dr. Zwiebel. We proudly provide plastic surgery solutions to those who live in and near Denver, Highlands Ranch, and Littleton, Colorado.
Our Accreditation
Just as Dr. Paul Zwiebel is a board-certified plastic surgeon, the facility in which your procedures will be performed, the Zwiebel Center for Plastic Surgery and Skin Care, is certified by the prestigious American Association for Accreditation of Ambulatory Surgery Facilities, Inc. (AAAASF). This high-level accreditation is proof to our patients, to the communities, and to our staff of our commitment to deliver the highest quality care, and safety. It also demonstrates we have met the rigorous standards of a nationally-recognized third party accreditation organization.
The AAAASF is a voluntary accreditation program for certification, meaning that the Zwiebel Center for Plastic Surgery and Skin Care chooses to be inspected to ensure excellence to our patients.
Our achieving accreditation means:
We are committed to providing you the highest quality, safe, effective, and comprehensive treatment from your first scheduled consultation to after your procedure
That meticulous attention is devoted to patient safety in the comfort and privacy of our office
That we demonstrate a strong statement to the communities we serve about our center's efforts to continually provide the highest quality care and services
We provide continuous process improvement by providing insight into our center's daily business intelligence operations, systems of care, evidence of the standard's substantial compliance, and measures of process improvement success monitoring
We work to ensure our staff is highly-trained because their involvement is vital to the success of direct patient care delivery
For more information on the Accreditation, please go to www.aaaasf.org. If you put in our zip code 80126 you will see the accreditation of the Zwiebel Center for Plastic Surgery and Skin Care.
Your Experience at Our Office

The environment at our facility has been designed specifically to cater to the needs, privacy, and comfort of the elective cosmetic surgery patient. Because Dr. Zwiebel and our team have direct control of the environment, we can directly ascertain the operational safety of the equipment and procedures through regular diligent internal checks and maintenance.
Our team is committed to providing our patients with the privacy they deserve for the cosmetic procedure they desire. As one of our patients in our in-office surgical suite, you will have already met and become familiar with our staff prior to the day of surgery, so you will be more comfortable than if you were in a new surrounding and with new personnel. Patients often view our office care as being more personalized than comparable care provided at a larger facility.
We pride ourselves in caring for one patient at a time. The same staff and location from consultation through surgery, recovery and post-op visits is not only more friendly, convenient, and efficient for you, but also means better continuity of care.
We believe that as our patient, your satisfaction connects with our high quality, safety, and operational efficiency. We recognize this commitment is an ongoing process. Our practice continues to spend substantial time and effort to continue improving our processes and providing our staff with training to achieve our continued customer loyalty and outstanding outcomes.
Following a thorough analysis, Dr. Zwiebel will recommend the solution that best fits your needs and, if appropriate, uses a 3D imaging device to give you a visual representation of your potential results.
We Value Your Safety
You can feel confident that you will be in good hands with Dr. Zwiebel, recognized for his expertise, experience, and reputation for excellence in the field of plastic surgery. We want you to know that your safety is our highest priority. Our team of dedicated professionals is dedicated and vigilant in maintaining the highest standards of safety, ethics, and care in plastic surgery.
Our own private surgical suite affords you an environment dedicated to the safety and special needs of the cosmetic surgery patient. Because it is a dedicated cosmetic surgical suite, we don't treat patients with complex diseases, nor do we have the high volumes of patients compared to the hospital environment where major diseases are treated.
Optimizing Your Recovery
Dr. Zwiebel is dedicated to his patients throughout the surgical process, and has protocols to help speed post-surgical healing, reduce down time, and improve each patient's recovery experience. To guide you through your recovery and optimize your results, Dr. Zwiebel and his staff will schedule regular post-op visits to monitor your healing and answer your questions. Following your procedure, you will experience an extraordinary level of aftercare. Dr. Zwiebel will make himself available to you day or night, seven days a week, to answer any questions or address any concerns.
Lymphatic Peri-Operative Massage Therapy  
Lymphatic drainage massage is a very gentle manual technique applied before and after surgical procedures to enhance and expedite healing.
The benefits include, but are not limited to:
Reduced recovery time
Eliminate toxins prior to and after surgery
Alleviation of pain
Elimination of swelling, bruising, and improves circulation
Promotes relaxation by reducing stress and tension
The goal of peri-operative therapy is to accelerate your healing and recovery time. It is recommended to have a treatment 2-3 days prior to your surgery to eliminate toxins and improve circulation and two sessions 3-5 days after your procedure.
Our certified massage therapist will educate and familiarize you with therapeutic techniques and create an individualized treatment program that is best suited to your needs.
VitaMedica Surgery Products
At our facility, we use targeted nutrients to support healing. VitaMedica's Surgery products are targeted nutraceuticals which:
Support wound healing
Boost immune function
Stimulate tissue growth factors
Minimize inflammation, swelling and bruising
Our surgery products are specially designed for patient convenience and flexibility. We offer them as comprehensive program kits and as individual products. Because the surgery supplements were formulated by an anesthesiologist, they are designed to be safe, effective, and simple to use for patients undergoing surgical procedures.
Like any type of invasive procedure, surgical outcome tends to improve when the patient is in good physical health. Optimizing a patient's nutritional status is an important part of this process, and is essential for proper wound healing. For more information, please visit www.vitamedica.com
On Q® Pain Pump
The On Q® pain pumps are indicated for local wound site infusion of non-narcotic anesthetic for the management of post-operative pain.
The PAIN CARE® 3000 series pumps combine a continuous drip of anesthetic to the post-operative wound site with the benefit of a patient-controlled 4 mL bolus. This is the pain pump we utilize on all breast augmentation and tummy tuck procedures.
Don't overlook the importance of good nutrition; protein is the building block of healing and immunity. We will provide you with recommendations for vitamins and supplements to optimize healing. Probiotics play an important role in bolstering immunity and avoiding gastro-intestinal side-effects of antibiotics.
Contact Our Board-Certified Plastic Surgeon Today
As you can see, we are committed to your satisfaction from the minute you come to us for a consultation till your final post-operative visit. Everything we do is to ensure you the best quality, safety, and comfort so you can trust that your needs are met and the results you desire are achieved. Dr. Zwiebel and our entire staff are dedicated to enriching your life through your personal cosmetic rejuvenation.
If you'd like to learn more about our team, our facility, or wish to set up a consultation, please contact us by filling out the form on this page or by calling us at 303-470-3400 today. We proudly provide excellence in plastic surgery to the areas of Denver, Highlands Ranch, and Littleton, Colorado.