Dr. Zwiebel is dedicated to his patients throughout the surgical process, and has protocols to help speed post-surgical healing, reduce down time, and improve each patient's recovery experience. To guide you through your recovery and optimize your results, Dr. Zwiebel and his staff will schedule regular post-op visits to monitor your healing and answer your questions.
Lymphatic Peri-Operative Massage Therapy 
Lymphatic Drainage Massage is a very gentle manual technique applied before and after surgical procedures to enhance and expedite healing. 
The benefits include, but are not limited to:
Reduced recovery time
Eliminate toxins prior to and after surgery
Alleviation of pain
Elimination of swelling, bruising and improve circulation
Promotes relaxation by reducing stress and tension
The goal of Peri-Operative Therapy is to accelerate your healing and recovery time. It is recommended to have a treatment 2-3 days prior to your surgery to eliminate toxins and improve circulation and 2 sessions 3-5 days after your procedure.
Our Certified Massage Therapist will educate and familiarize you with therapeutic techniques and create an individualized treatment program that is best suited to your needs.
VitaMedica Surgery Products
Targeted Nutrients to Support Healing
VitaMedica's Surgery products are targeted nutraceuticals to support wound healing, boost immune function, stimulate tissue growth factors, and minimize inflammation, swelling and bruising.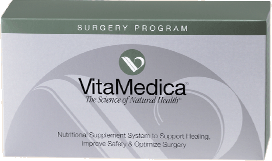 Our surgery products are specially designed for patient convenience and flexibility. We offer them as comprehensive program kits and as individual products. Because the surgery supplements were formulated by an anesthesiologist, they are designed to be safe, effective and simple to use, for patients undergoing surgical procedures. Like any type of invasive procedure, surgical outcome tends to improve when the patient is in good physical health. Optimizing a patient's nutritional status is an important part of this process, and is essential for proper wound healing. For more information, please visit www.vitamedica.com
On Q® Pain Pump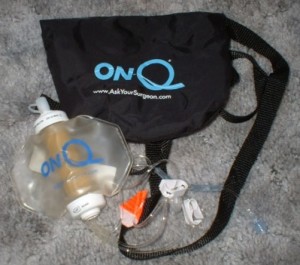 The On Q® pain pumps are indicated for local wound site infusion of non-narcotic anesthetic for the management of post-operative pain.
The PAIN CARE® 3000 series pumps combine a continuous drip of anesthetic to the post-operative wound site with the benefit of a patient-controlled 4 mL bolus. This is the pain pump we utilize on all Breast Augmentation and Tummy Tuck cases.
Don't overlook the importance of good nutrition: protein is the building block of healing and immunity. We will provide you with recommendations for vitamins and supplements to optimize healing. Probiotics play an important role in bolstering immunity and avoiding gastro-intestinal side effects of antibiotics.