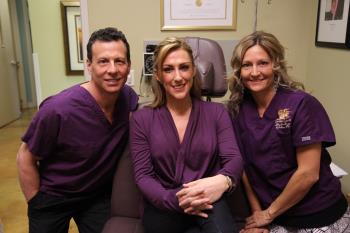 We know that your safety remains our highest priority. My team of dedicated professionals and I are dedicated and vigilant to maintain the highest standards of safety, ethics and care in plastic surgery. Our own private surgical suite affords you an environment dedicated to the safety and special needs of the cosmetic surgery patient. Because it is a dedicated cosmetic surgical suite, we don't treat patients with complex diseases, nor do we have the high volumes of patients compared to the hospital environment where major diseases are treated.
The environment has been designed specifically to cater to the needs, privacy and comfort of the elective cosmetic surgery patient. Because Dr. Zwiebel and his team have direct control of the environment, we can directly ascertain operational safety of our equipment and procedures through regular diligent internal checks and maintenance.Our team is committed to providing our patients with the privacy you deserve for the cosmetic procedure you desire. As one of our patients in our in-office surgical suite, you will have already met and become familiar with our staff prior to the day of surgery, so you will be more comfortable than if you were in a new surrounding and with new personnel. Patients often view our office care as being more personalized than comparable care provided at a larger facility.
We pride ourselves in caring for one patient at a time. The same staff and location from consultation through surgery, recovery and post-op visits is not only more friendly, convenient, and efficient for you, but also means better continuity of care. We believe that as our patient, your satisfaction connects with our high quality, safety, and operational efficiency. We recognize this commitment is an ongoing process: our practice continues to spend substantial time and effort to continue improving our processes and providing our staff with training to achieve our continued customer loyalty and outstanding outcomes.
Accreditation 
Just as Dr. Paul Zwiebel is a Board Certified Plastic Surgeon, the facility in which your procedures will be performed, The Zwiebel Center for Plastic Surgery and Skin Care, is certified by the prestigious Accreditation. This high level accreditation is proof to our patients, to the communities, and to our staff our commitment to deliver the highest quality care, safety and demonstrates we have met the rigorous standards of a nationally recognized third party accreditation organization.
The AAAASF is a voluntary accreditation program for certification, meaning that The Zwiebel Center for Plastic Surgery and Skin Care chooses to be inspected to ensure excellence to our patients.
Our achieving accreditation:
Means we are committed to providing you the highest quality, safe, effective, and comprehensive treatment- from the first scheduled consultation to post discharge
Means that meticulous attention has been devoted to patient safety in the comfort and privacy of our office
Demonstrates a strong statement to the communities we serve about our center's efforts to continually provide the highest quality care and services
Provides continuous process improvement, providing insight into our center's daily business intelligence operations, systems of care, evidence of the standard's substantial compliance, and measures of process improvement success monitoring
Ensures highly trained staff involvement is vital to the success of direct patient care delivery
For more information on the Accreditation, go to www.aaaasf.org. If you put in our zip code 80126 you will see accreditation of The Zwiebel Center for Plastic Surgery and Skin Care.