Posted: February 10, 2010
I received a phone call, late Wednesday night requesting I join International Medical Relief team going to Port au Prince,Haiti. We left Friday night, encountering an obstacle,Saturday morning, with security refusing to let our team board our connecting flight from NYC. Apparently, they lost authorizing paperwork. We were diverted to Santo Domingo, Dominican Republic and took a 10 hour van ride to get to Port au Prince.
My role here has been as a primary care doctor and as a reconstructive surgeon tending to wounds of varying complexity.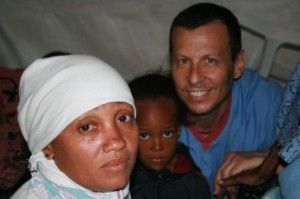 Dr. Zwiebel assisting in Tent City Hospital
Our first two days were in the field, going to a displaced person's camp ('tent city"). We saw and treated about 450 people the first 2 days. Lots of dehydration, diarrhea, headaches, and wounds. Water and food is scarce: we each packed our own provisions for the 10 days.
We camped on the grounds of a church. After a full day of treating patients, my son Elie and I assisted a group of 13 others unloading 2 truckfuls of rice (55 tons!) into the basement of the church for the next day's food distribution. It took the 15 of us 3 hours in the dark to carry the 55 pound bags with a large American flag proudly emblazoned on one side!
These last 3 days, I have been at a MASH Unit located on the grounds of the Port au Prince airport and United Nations compound. My primary focus has been wound repair, but also assisting Orthopedic and Neurosurgeons with surgery on very complex injuries. Yesterday, I assisted a Neurosurgeon repair a 10 year old boy with a badly fractured skull.
The Haitian people are so grateful for the help from the US and to the people who have come to provide assistance. The country has little in the way of resources except for the great spirit of the people. In the absence of any government since the earthquake, the day to day civility of the hungry, thirsty and injured Haitian people is an inspiration.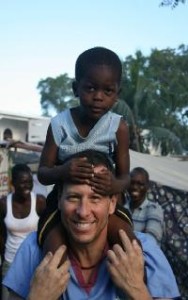 Dr. Zwiebel with a Hatian Child
I am thankful that as a plastic surgeon, I can contribute.